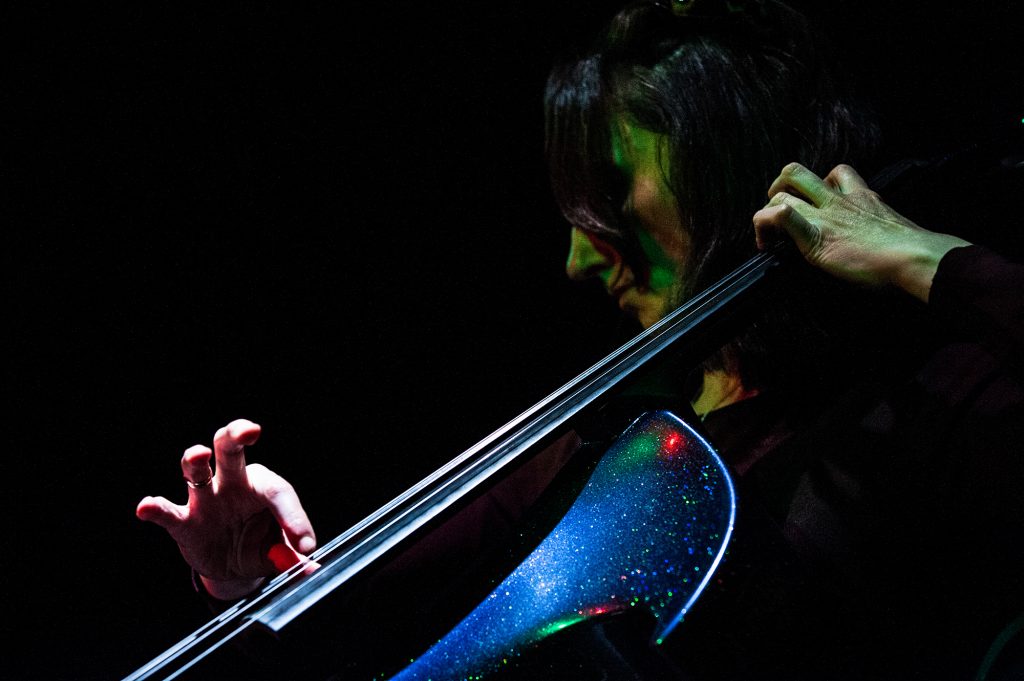 Defiant Journey is a ground-breaking interactive electric cello experience, blending music, activism, storytelling and digital and sensory arts. Presently on hold due to covid. 
Raucous red, vibrant orange, enshrouded in midnight blue. From the dark recesses, Dragon transmits a powerful and protective veil of sound and colour.
Outside, ever-multiplying, plagues of recovery model robots and care company mercenaries lie in wait…
"I am convinced that this live immersive artwork / performance merits a tour, to enable more people to see it. Jo-anne is an amazing accomplished musician and after seeing her live performance, I discovered that she was also an amazing storyteller." – Ivan Riches, Sonic/Visual Artist
An R&D project
In 2018 I received R&D funding from Arts Council England to develop an idea I had for an inclusive electric cello show. I wanted to explore how I could make the show inclusive and accessible, as well as creating and performing new electric cello compositions. I also wanted to explore how emerging technologies can contribute to accessibility within a creative performance.
This led me to collaborate with a lighting designer and music technologist Charles Matthews to develop an immersive and interactive experience for the audience, where lanterns react to the notes from my cello and 3-D printed lights respond to sound.
During the R&D period I wrote and developed the music and script for the show, which involves storytelling and sensory arts as well as music and lights. Access and inclusion are woven through the project at every stage.
Read my blog from the start of the project or continue reading for more info about the show we have created through this collaborative approach to the R&D process.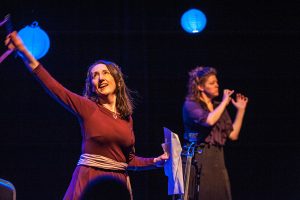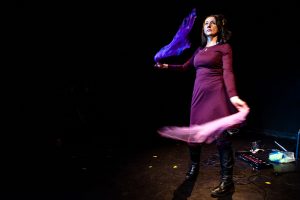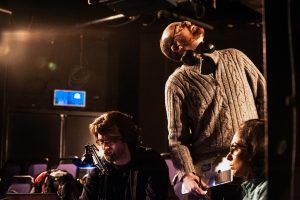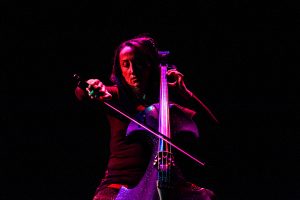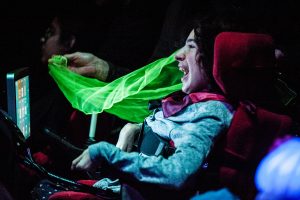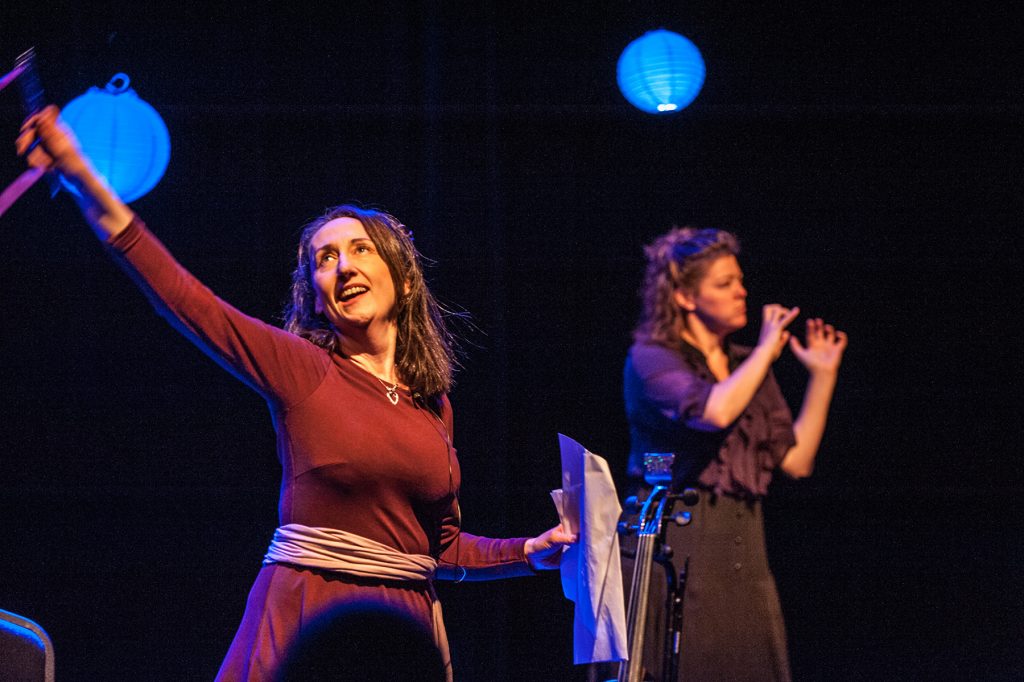 About the show
Defiant Journey is a sonic saga, told by a musician and her electric ally. It is the story of navigating the highs and lows of life as a neurodivergent artist.
Invoking the language of mythology to explore a personal and political narrative, it exposes and challenges our stories around identity, mental health and capitalism. 
Following her muse and immersing herself in colour and sound, the artist shares her steps towards hope and a rebellious dance to her own tune.
"The ambience, atmosphere, the freedom to express with the scarves and the cello player was outstanding." –  Audience feedback, scratch performance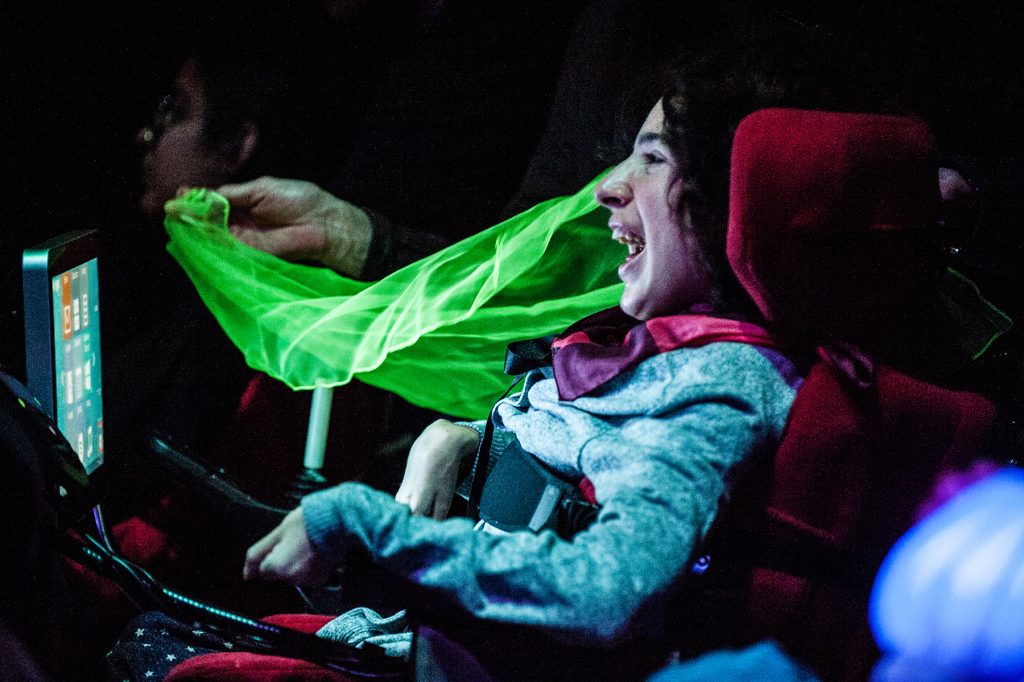 Photo Oliver Cross
Access and Inclusion
Designed with inclusion at its heart, Defiant Journey is presented in a relaxed event style and integrates British Sign Language (BSL) and audio description.
The show also includes audience participation and innovative tech. For example audience members can hold and play with 3-D printed lights, or can contribute to the music using iPads.
"I don't think I've ever been to anything where as much thought has been put into access and inclusivity" 
Audience comment at the scratch performance, April 2019
Audience feedback
The first scratch performance took place in April 2019 at Stratford Circus Arts Centre, where it gained really positive feedback from the audience:
"It was really really beautiful. The stories were really magical, I felt like a child again, playing with the scarves. The cello playing was fantastic, it brought up a lot of emotions. Thank you."
"The informal atmosphere was refreshing and felt natural, it was positive and made the performance more accessible as an audience member. The assistants working on the performance made it very easy to interact and take part in the sensory aspects of the show."
Additional information for programmers
After the first phase of R&D, I am looking to connect with programmers and arts organisations to bring Defiant Journey to their audiences.
Themes of the show
Defiant Journey celebrates neurodivergence and challenges  forced recovery and the pathologization of emotional sensitivity and intensity. 
The show opens up questions around traditional models of music performance. It is inclusive in a number of different ways and utilises bespoke digital arts technology designed with access in mind. It also uses sensory arts, including colour, light and movement.
It is designed to be interactive and suitable for all ages.
Tour and Workshops
The show is designed to be flexible in format for different spaces and types of events.
The full production will suit accessible small scale and studio theatres
The tailored version will suit accessible festivals, museums, art galleries and community venues.
Bespoke music, cello and performance workshop options are also available.
Contact me for the full tour pack.
References and Links
Research
Aesthetics of Access
www.spotlight.com/news-and-advice/graeae-theatre-company-the-aesthetics-of-access
Relaxed Performance
www.touretteshero.com/2016/03/16/relaxed-performances-the-faqs Disability Digital and Disruption by Jo Verrent
https://immerse.news/disability-digital-and-disruption-747f5b7290df
History of Theatre Etiquette and Division
www.thestage.co.uk/features/2016/our-obsession-with-theatre-etiquette-is-rooted-in-the-past
Recovery Model in the Bin
https://recoveryinthebin.org
Emotional Intensity and Sensitivity
www.psychologytoday.com/gb/blog/living-emotional-intensity/201805/the-unexpected-gifts-inside-borderline-personality
Penny Pepper memoir, breaking barriers to record and perform music, punk, activism, history of Disability Arts movement
https://www.amazon.co.uk/First-World-Somewhere-Adventures-Scribbler/dp/1783523476
Political Context of Defiant Journey
Crippled: Austerity and the Demonization of Disabled People by Frances Ryan
www.goodreads.com/book/show/46248930-crippled
Technology
David Bobier, Director / Curator VibraFusionLab
https://vflvibrations.com
Past projects: www.davidbobier.ca/vibrafusionlab
Make a Vibracushion or a Vibratabard
Chisato Minamimura – solo digital art work using 40 Woojer © vibration straps to feel the soundscape and vibrational composition http://chisatominamimura.com/projects/scored-in-silence
Charles Matthews, Sound Artist and Creative Technologist
http://ardisson.net
Lights and iPad
Project Partners
Disability Arts Online
https://disabilityarts.online
Together! 2012
www.together2012.org.uk
Funding support
PRS Foundation – Supported by PRS Foundation's The Open Fund
www.prsfoundation.com
Help Musicians UK
www.helpmusicians.org.uk
Arts Council England
www.artscouncil.org.uk/DYCP
www.artscouncil.org.uk/projectgrants
Creative Development Team (2018 – 2019)
Lead Artist and Composer: Jo-anne Cox
Music and Lighting Technologist: Charles Matthews
Electric Cello Consultant: Bela Emerson
Lighting designer: David Abra
Project Manager/Access Support: Foteini Galanopoulou
Photography and Film: Oliver Cross
Digital Marketing Consultant: Shipshape Marketing
Film Audio Description – Script Writer: Jenni Elbourne
I would like to acknowledge and thank:
Morgane Smith and Marie Klimis (Performance Assistants), Laura Goulden (British Sign Language Interpreter), Lee Hayward (Web Support), Disability Arts Online, Together! 2012, Drake Music.
I am grateful for the generous support of: 
Help Musicians UK, PRS for Music Foundation and Arts Council England.
Defiant Journey is dedicated to much cherished friend Sophie Partridge (1968-2017)